TRAINING SESSION DESCRIPTIONS
Body Snatcher:
Hourglass sculpt. Shoulder/back, waist + glutes to encourage a cinched waist and shapely composition.
Butts + Guts: Core tightening and glute building to defy age and gravity. Keeping it high and tight!
FUNdamentals: Work on classic lifts. Compound staples to build confidence in every class broken down with instruction.
Glutecamp: Glutes + hamstring focused workout. Perk up the backside. HHF's very own build-a-booty workshop.
Leg Sculpt: Full leg workout to build and shape your stems.
Tank Top Toning: Get your arms ready for tank top season. Bi's, tri's and delt work to tighten up your upper body.
Total Body: Wake up your bod with a total body, head to toe workout.
PUSH: Weight training session focused on push movements to develop the muscles in your upper body. Primarily your chest, shoulders, and arms.
Jacked Back: Strengthen and shape your back with a fun and rewarding training session focusing on all the large muscles groups of your back and posterior chain. A shapely back tapers waist….we're bringing sexy BACK!
Power Hour: Power-based compound lifts. Longer recovery intervals for heavier working sets. Not for beginners.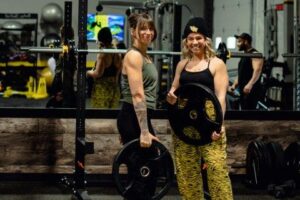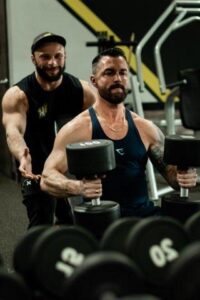 Options for joining the Healthy Hustle…..
Monthly Membership Options:
$169/month
Book up to 3 training sessions per week = $13 per training session
$189/month
Book up to 5 training sessions per week = $8.70 per training session
$249/month
Book an UNLIMITED amount of training sessions per week!

All training sessions can be booked as far out as two weeks in advance.

Session Packs:
Drop-in Session $30

5 pack $145

10 pack $275

20 pack $525